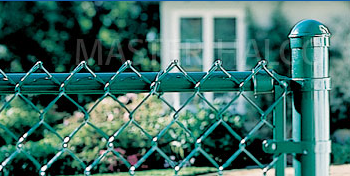 The new standard for PVC colored vinyl chain link fencing systems offered by Metropolitan Fence offers unparalleled durability. For superior protection, it is coated with an extra heavy layer of galvanized steel before a specially engineered PVC material that features ultra-high UV resistance is extruded onto the wire used to create the chain link mesh.
It is an ideal choice for residential and commercial installation sites that need the security of a chain-link fence system and in addition give an appearance that blends in seamlessly with the environment.
Vinyl Coated Chain Link Features and Benefits:
Zinc-coated steel framework that is thoroughly cleaned during the pre-treatment process
Base materials are color coated with a 3 mil minimum polyester layer for dual protection from corrosion.
All galvanized wire has a 15 mil minimum extruded polyvinyl chloride coating for dual protection from corrosion and the elements.
Fittings are made of galvanized steel with a 6 mil minimum of polymer coating for added protection.
Treating components with both zinc and a color coating helps them provide years of protection and security.
12 year limited warranty provides confidence and assurance that you've selected one of the best color chain-link fence systems available.
Vinyl Chain Link Fence Color Options: