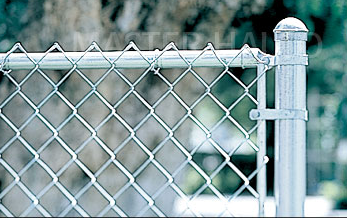 Aluminized Chain Link Fences have been the mainstay of property delineation and security for may decades. Aluminum chain link fences installed 30 or 40 year ago still fulfill their designated function to this day. The reason for this remarkable durability is the use of zinc as an electro-bonded coating over a steel wire which takes place in the aluminizing. The Zinc protects steel from oxidation caused by weather; it prevents rust and corrosion for many, many years.
The protective zinc coating is applied after the steel wire is woven into the fencing matrix so it is not damaged in the manufacturing process. Cut ends are therefore coated as well and that is why aluminum chain link fence installations are still popular today. They still provide an economical fencing option that offers years of maintenance free service.
Aluminumized Chain Link Fence Features and Benefits:
Aluminized fence systems are available in a wide variety of wire sizes, meshes and heights.
All fabric, post, rails, and structural components are galvanized (zinc coated) for long life.
Zincs' natural protective properties protect the steel to give you a fence that is strong and corrosion resistant.
Contact Metropolitan Fence today for your free aluminized chain link fence installation quote!