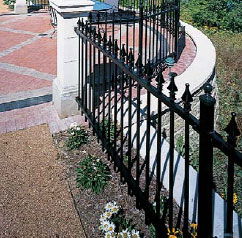 Wrought Iron Fencing Styles with a Modern Technology Twist
Monumental Iron Works® ornamental iron fences and gates from Master Halco® installed by Metropolitan Fence can be found throughout the country, adding beauty and security to these properties for their many owners.
Combining tomorrow's modern technology with the elegance and craftsmanship of fencing forged by the hands of a master blacksmith of years gone by, Master Halco® is a unique ornamental fencing solution.
Monumental Iron Works® is a complete system, made up of pre-assembled panels and accessories, which are designed to support each other. When completely assembled, these parts create the strongest ornamental fence on the market. Using industrial rivets, the constructed panels have the solid look and feel of authentic ornamental iron.
All Monumental Iron Works® steel components are galvanized and then powder-coated for corrosion protection, durability, and a great appearance that lasts for years. A 10-year Limited Warranty reinforces your peace of mind in knowing you've purchased the finest ornamental fence available.
Monumental Iron Works® panels attach to posts using a patented Pro-Arc™ bracket that bolts through the post for added strength and security. The bracket swivels 30º in any direction to allow for grade and layout changes, while enclosing the panel's rails for maximum protection and a finished professional look.
Monumental Iron fencing has a choice of three distinctive picket tops. Gates are made to match each style.
When you are ready to add ornamental iron fencing to your property, contact Metropolitan Fence today!