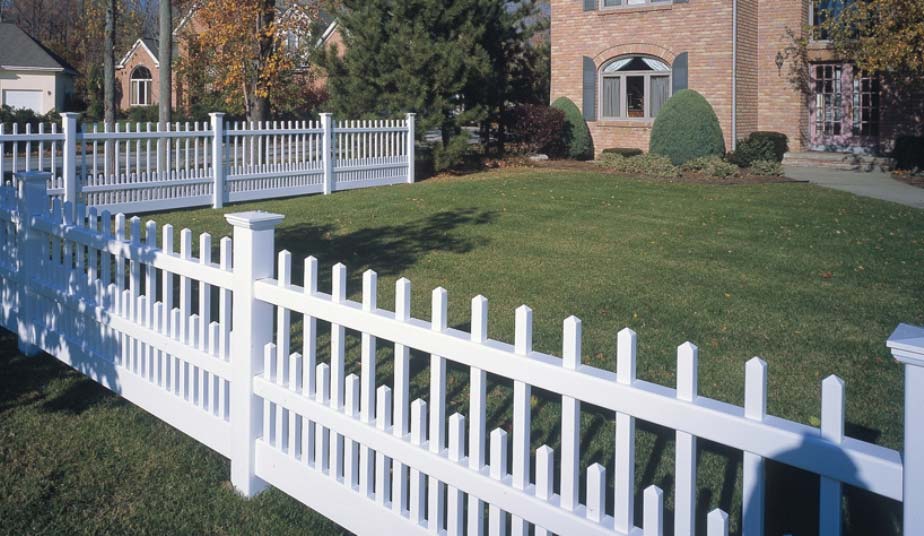 Metropolitan Fence offers the complete line of Certainteed™ Bufftech® products for fence installations. The product lines offer a very broad selection of styles, textures and colors including their unique CertaGrain® Texture.
Different degrees of privacy can be established with varying heights, as well as the density of the slats. Combinations of solid and open spacing can help establish privacy at a lower height, while providing "see through" separation at the top of the fencing.
Certainteed™ Bufftech® respects the environment and practices responsible specification and manufacturing of sustainable building products and systems. Homeowners can be confident that Bufftech® fencing and railing products they have installed and maintain are made with sustainable materials that enhance every project's performance and beauty.
PVC Fence Styles:
Vinyl Fence Color Options:
---
Standards
All the products Metropolitan Fence uses in its fencing installations are engineered to the highest standards for performance relative to key longevity factors.
Design Variety
Metropolitan Fence's product offering includes a traditional, classic style, contemporary, semi-private, privacy and post & rail. These feature 41 variations and 13 colors.
Value
Vinyl fencing is a durable, low maintenance alternative to wood fencing. If the time-consuming and costly upkeep of wood is factored in, a vinyl fencing is a great value.
---

Trust
Metropolitan Fence has partnered with Bufftech™, one of America's most trusted names in fencing. Buftech™ is a division of Certainteed®, a building materials supplier that has been in business for more than 100 years. The materials we use in our installations are guaranteed.
Innovation
The products Metropolitan fence offers are industry-leading and include a broad spectrum of innovative styles, colors and textures, including wood grain and stucco finishes.
Performance
Our supplier is constantly testing the products we offer to make sure they will hold up over the long term in real-world conditions.
---

Protection
Our supplier for this product line offers a lifetime, limited and transferable warranty with CertainTeed®'s exclusive 5-year SureStart™ parts and labor protection.
Sustainable
GreenCircle Certified® applies to all the products in this offering . It is a seal of assurance that demonstrates the products comply with all environmental and sustainability claims.
Partnership
Metropolitan Fence is a trusted Certainteed® partner serving all over Southeastern Wisconsin. We are dedicated to providing customers with the best fence system possible.
Contact Metropolitan Fence today for your free PVC Vinyl Fence, PVC Railings and PVC Deck installation quote!